Nevermoor Wiki is a wiki-based online encyclopedia dedicated to all things Nevermoor based on the book series by Jessica Townsend. Read all about information on Morrigan Crow to the Hollowpox novel to the Wundrous Society here.
Trending articles
Popular categories
View full main page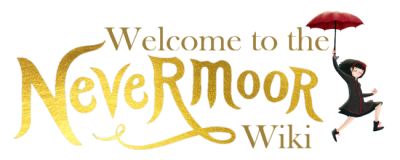 Welcome to the Nevermoor Wiki. We are an free encyclopedic resource and community gathering spot dedicated to all things related to the Nevermoor series by Jessica Townsend. Whether you're looking for info on Morrigan Crow, the book series or the Wundrous Society, we are a fan database that anyone can edit. As we are a home for fans, we are not affiliated with anything or anyone Nevermoor official.
CAUTION: This wiki contains spoilers from the Nevermoor novels. Readers are encouraged to experience the original works before exploring the wiki — Read at your own risk!

We are currently editing 215 articles since being founded on November 4, 2017.
Browse
Characters
Featured Article
Hollowpox is a parasite that acts like a viral disease affecting Wunimals; it is extremely contagious. Once the parasite takes hold of the host body, it makes the infected go mad and act unnimalistic. When it departs, the parasite abandons the host body as an empty shell ie: hollow. It is visible to Witnesses and Wundersmiths.
Random Quote
Morrigan Crow: "Your saliva smells like sardines."
Fenestra: "Yeah, well. I'm a cat."
— After Fen comforts Morrigan
Upcoming Books
Only

October 10 2023 00:00:00

until Silverborn releases